Tether (USDT) is a blockchain-based cryptocurrency whose value is stable and backed by fiat currencies like the dollar.
Tether aims to bring stability to the constant volatility of cryptocurrencies. It is denoted by 'USDT' and its price always remains equivalent to $1. So, if you're looking to buy or store a cryptocurrency that remains stationary in price, Tether is the best option for you.
15 Best Tether Wallets
The list below is the ultimate compilation of tether wallets for desktop, iOS, Android, and various other operating systems.
Price: Check the current price by clicking below.
Trezor Model T is developed and founded by Czech company SatoshiLabs. Trezor was also the first hardware wallet for cryptocurrencies. If you are a Trezor user, then you can be assured that your coins are completely safe from every external entity.
The device has an open-source publicly accessible software code so in case SatoshiLabs shuts down, it will still be possible to use the wallet and integrate it with other programs.
It is completely operated over its touchscreen and that makes it much more secure than every other hardware wallet. The reason behind this speculation is that every other hardware wallet requires a computer or smartphone to access their sensitive information but Model T operates via touchscreen and doesn't require the use of any external environment.
So if you mistakenly connect your hardware wallet to a computer containing malware/viruses, you compromise the security of your funds but that is not the case with Model T.
Trezor Model T also adopts other security features like two-factor authentication, 12-word recovery seed phrase, passphrase, etc. It supports 1000+ cryptocurrencies and new coins are constantly getting added to it.
In terms of safety and security, Trezor Model T is undoubtedly the best Tether wallet.
Trezor has been around since 2014 and it has never reported loss of a single coin.
It's another incredible feature is that you can create 10 different accounts for every cryptocurrency so you can use some accounts for HODLing, some for trading, and some for regular usage.
So if the price isn't an issue, I recommend you to buy Trezor Model T as it is not just the best Tether wallet but also the best hardware wallet all around.
#2. Ledger Nano X
Price: Check the current price by clicking below.
Ledger is a very popular hardware wallet company and its Ledger Nano X is a feature-rich hardware wallet. Apart from a USB cable, you can also connect it via BlueTooth to any BlueTooth supporting devices. It also has a battery of 100 mAh so you can use it to send or receive cryptocurrencies on the go.
It supports 1000+ cryptocurrencies including Tether (USDT) and 10000+ crypto tokens which belong to the blockchains of these cryptocurrencies.
Ledger Nano X has also adopted various security features like two-factor authentication, PIN code, a recovery phrase, and a seed phrase. Plus the wallet gets locked if someone enters a wrong PIN code thrice (Not permanently).
Additionally, you will need to manually confirm a transaction by pressing the button on your device.
The design of the wallet is beautiful and rigid. It has a solid plastic body which is covered by a twisting metal cover.
It is also very compact in size and can be easily carried around like a keychain.
Nano X is our #2 choice for the best Tether wallet because:
It supports 1000+ cryptocurrencies
Supports wireless connectivity (BlueTooth)
Beautiful design and good build quality
Price: Check the current price by clicking below.
Trezor One was the world's first hardware wallet.
It is an inexpensively priced hardware wallet by SatoshiLabs. It is another good option to store your Tether (USDT) and other cryptocurrencies safely.
It has a non-touch OLED display and two buttons that are used to sign or decline a transaction. The company provides detailed manuals and instructions to make your configuration and usage process as smooth as possible.
It runs on a custom Cortex M3 (120MHz embedded ARM processor) operating system.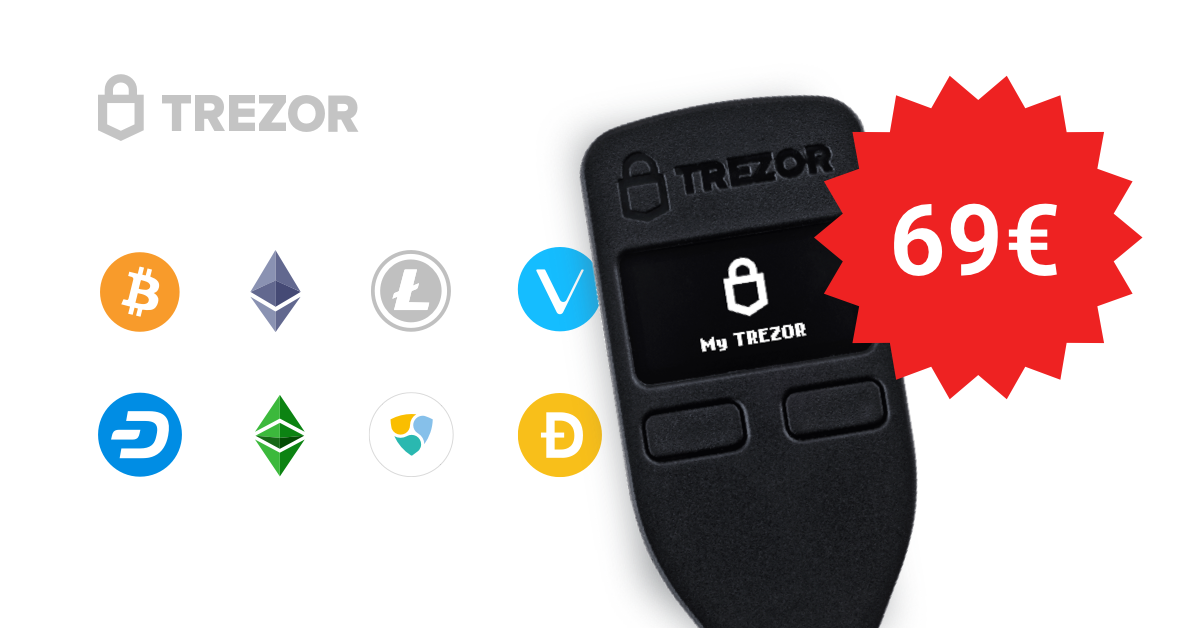 Why use Trezor One?
Supports 1000+ cryptocurrencies including Tether (USDT)
Simple and intuitive interface
USB connectivity
9-digit PIN Code security
Compact in size
Lightweight
Trezor's developing team is also the founder of widely-used 24-word Seed Phrases. Model One is also BIP39 compatible.
It doesn't offer as many features as Trezor Model T but it is still an amazing hardware wallet.
It does not support BlueTooth connectivity and is completely dependent on a USB cable to be operational.
Considering its price and features, it certainly deserves a #3 place in our list of the best Tether wallet.
#4. Ledger Nano S
Price: Check the current price by clicking below.
Ledger Nano S is an affordable and very secure hardware wallet. It is also a non-custodial wallet so you can store the private keys of your cryptocurrencies safely inside it.
You will need to connect it to a computer or smartphone via USB cable and use it to send or receive various cryptocurrencies.
Just like other wallets, Ledger Nano S also supports 1000+ cryptocurrencies including Tether USDT and it is compatible with Windows, Linux, macOS, and Chrome operating systems. You can also connect it to your Android device using an OTG cable.
You won't even need to connect your wallet to a computer to receive your Tether USDT if you have stored its receiving address elsewhere.
You can order from the official website here.
Note: The wallets above will always be more secure than the wallets below.
#5. Guarda Wallet
Guarda wallet founded in 2017, is another multi-currency open-source wallet.
It is completely non-custodial which means it gives its users complete control over their funds and ultimately, full responsibility for their security.
Guarda developing company even claims to store zero personal or any sort of cryptographic information of its users.
Another great feature is that you can easily import all of your existing wallets into your Guarda wallet.
It is available as a desktop wallet, a web wallet, a mobile wallet, and even as a Google Chrome extension and all these wallets can also be used to access an in-built exchange platform and buy any cryptocurrency of your choice.
Its web wallet can be accessed anytime from any browser in any platform, desktop wallet software is available for Windows, macOS, and Ubuntu. The mobile application is available for both Android and iOS and of course, all the applications are free.
You can also interact with DAPPs (Decentralized applications) using its Chrome extension.
It currently supports Tether (USDT) and 40+ other cryptocurrencies which in turn support more than 10,000 crypto token assets from BEP-2, ERC20, and ERC721.
It also shows you the recommended fee for every transaction or you can choose any fee amount according to your liking.
Since it is a non-custodial wallet, it should be considered as one of the best Tether wallets.
#6. Atomic Wallet
The atomic wallet is a multi-currency wallet used to store over 300 cryptocurrencies which include BTC, ETH, XLM, USDT, etc.
It is somewhat like a cold storage wallet because it keeps all your sensitive information in the local storage of your device.
It also has a useful feature called Atomic Swap in which you can swap any cryptocurrency for another.
Suppose you want to buy Tether (USDT), with the atomic swap you can easily do so by swapping any other cryptocurrency for USDT inside your wallet and if you don't want to swap USDT for your other coins, you can also buy USDT quite easily with their in-built exchange platforms with your desired method.
It provides a high level of encryption and also offers to stake for many Proof-of-Stake coins.
The atomic wallet is not only among the best Tether wallet but it also supports 300+ cryptocurrencies which in turn support 1000+ different tradable crypto tokens.
Some major cryptocurrencies supported by atomic wallet are:
Bitcoin (BTC)
Tether (USDT)
Ethereum (ETH)
Ripple (XRP)
Litecoin (LTC)
Monero (XMR)
and many more.
It is available for the following operating systems:
Windows
macOS
Ubuntu
Debian
Fedora
Android
iOS
Atomic wallet is on our best Tether wallet list because of the options and features it offers.
#7. Exodus Wallet
Exodus is a multi-currency wallet usually recommended for beginners for its ultra-smooth user interface. You can securely manage and exchange your cryptocurrencies from inside your wallet.
It was developed in 2015 by Exodus Movement Inc. and was originally a desktop software wallet that further expanded its operations to mobile operating systems as well.
Now it is available completely free of cost for macOS, Windows, Linux, iOS, and Android.
Exodus wallet is also compatible with Trezor Hardware wallets which allows you to use exodus UI with the robust security of a cold storage wallet.
One more thing, they offer exceptionally good customer service support for free software.
It currently supports 100+ cryptocurrencies including Tether (USDT) i.e. 115 cryptocurrencies to be exact.
To be honest, if you are just starting to use USDT, BTC, or other cryptocurrencies, you will be able to use this wallet quite easily and effortlessly.
#8. MyEtherWallet (MEW)
MyEtherWallet aka 'MEW' is a client-side, open-source tool/wallet used for storing cryptocurrencies as well as interacting with DAPPs (Decentralized Applications) of the blockchain.
Initially, it was a web-based hot wallet which was later turned into a device-based software wallet.
It seems a great way to save cryptocurrencies and their tokens with its easy-to-use interface. What makes it a safe way to store cryptocurrencies is its way of storing personal information. It stores the sensitive information of the users offline and inside the device.
Its way of storing funds and information of the user enhances the security of the funds and at the same time provides complete control of the assets and the data to the user.
MEW itself doesn't charge any fees for a transaction. All you have to pay for is the mining fees which can be quite minimal and insignificant at times but you can pay a higher fee if you want your transaction to be confirmed quickly.
MEW is mainly considered as the best wallet for Ethereum and all the coins based on Ethereum's blockchain but since tether is an ERC20 token and that in turn, makes MEW the best tether wallet.
It has a bunch of incredible features because of its partnerships and collaborations with other cryptocurrency companies Trezor, Ledger, Changelly, Simplex, etc.
MyEtherWallet has also adopted extensive security measures like anti-phishing protection, 2-factor authentication, and a no-user data collection policy.
If you lose access to your wallet, you can recover it by entering a 24-Word mnemonic phrase or by using a Keystore file.
MEW is a highly customizable wallet that lets you set your own terms for recovery conditions, access methods, and swap tokens, all from inside the wallet application.
MEW UI supports 18 different languages and is available all over the world with the exception of a few countries.
Why is MEW among the best tether wallet?
Security
Fees
Support
Easy UI
Another reason why it's among the list of best tether wallets is the reputation it has earned throughout its entire course of the journey.
#9. OmniWallet
If you already own the Omni layer tether, you need to check out the Omniwallet.
It was among the first few wallets that supported Tether and now remains the only wallet for Omni Layer USDT.
While it is an online web-based wallet, it still offers a high level of security by giving complete control of the funds and assets to its users and storing the private keys of the wallet inside the local device. Users can further enhance their security by adopting 2-factor authentication.
Apart from the tether, OmniWallet also supports Bitcoin (BTC) and a few other cryptocurrencies.
The only flaw that I can think of in this otherwise perfect web wallet is its user interface. It is not as user-friendly as other wallets and it often leaves its users stressed while scrolling. New users should go through its FAQs and manuals before transacting or they will find themselves dumbfounded.
While it's not as safe as a hardware wallet, it is still a great contender for web-based best tether wallets.
#10. Freewallet
For smartphone users of both iOS and Android, the Free wallet is the best Tether wallet. It is specifically made to store your stablecoins in a safe and secure manner.
Its simple and feature-packed user interface makes it an ideal choice for cryptocurrency HODLers as well as newbies.
The free wallet has two types of wallets, one is a multi-currency wallet and the other is made particularly for Tether USDT.
As amazing as this wallet sounds, there is one thing about this wallet that I'm not a fan of. The free wallet team keeps hold of the private keys of its users.
This means that your funds can be seized by the free wallet team anytime.
There is a popular saying in the crypto community that goes, "NOT YOUR KEYS, NOT YOUR CRYPTO".
However, the free wallet also has one benefit i.e. its developing team stores your crypto coins in cold storage which makes it pretty secure.
Additionally, if you lose access to your wallet, the free wallet team can also help you in recovering your wallet.
So, I think you can keep a small amount of crypto in this wallet for frequent usage.
You can also use the web wallet services of the Free wallet.
#11. Coinomi
Coinomi is a popular multi-currency software wallet and it has been around in the cryptocurrency sector since 2014. I have personally used it for quite some time.
Nowadays there are a lot of wallets to choose from but back a while, Coinomi was the favorite choice of many crypto enthusiasts.
Today, the Coinomi application is available across iOS, Android, and all major desktop platforms like Windows, macOS, and Linux.
Coinomi is an ideal choice due to the following reasons:
Security – Coinomi stores the private keys of your wallet in your wallet. It makes sure that the funds remain safe and under your control all the time.
Privacy and Anonymity – It is very privacy-centric and takes measures like No KYC requirement, No identity linking, No IP association, and no tracking of any transaction whatsoever. They even go a step further by anonymizing your IP address on their servers.
SegWit – It even supports SegWit which lets you use bitcoin, litecoin, and several other cryptocurrencies with faster confirmations and lower transaction fees.
Built-in Exchange – Well, you don't need to go to any cryptocurrency exchange to buy any coins, you can buy them directly from your Coinomi wallet.
Coinomi supports many cryptocurrencies based on 125 different blockchains. The most popular coins among them are:
TETHER (USDT)
Bitcoin (BTC)
Ethereum (ETH)
Ripple (XRP)
Litecoin (LTC)
and many more.
Coinomi is among one of the best Tether wallets for desktops out there.
#12. Eidoo Wallet
Eidoo wallet is a multi-cryptocurrency wallet that supports Tether, Bitcoin, Ethereum, and several other crypto tokens based on the different blockchains.
Founded by Natale Ferrara in 2017, it is a highly secure application-based wallet.
It was initially created as a bitcoin-only wallet but the company later expanded its operations and added support for 200+ altcoins including Tether USDT. Eidoo wallet currently supports Bitcoin, Ethereum, Tether, ERC20, and ERC223 tokens.
Eidoo wallet application is available for the following operating systems:
iOS
Android
Windows
Linux
OSX
Eidoo wallet, itself doesn't charge any fees the only fee a user has to pay is the network/mining fee for the transactions. So, it is completely free to use.
It also supports the HD (Hierarchical Deterministic) algorithm which means that the wallet generates a new address for every transaction providing its users better privacy.
It also makes use of a 12-word backup passphrase which must be kept secure at all costs so even if you lose your device you can easily install eidoo application on a new device and use the passphrase to restore the old wallet.
Furthermore, eidoo wallet does not store the private keys of its users which renders its users permanent and absolute control over their funds which is a very good thing because only the key owner is the owner of the crypto. So, I think the Eidoo wallet is a worthy alternative to our Best Tether Wallet list.
#13. Paper Wallet
Paper Wallet is undeniably the Best Tether Wallet to store your USDT coins safely.
You can create your own Tether paper wallet using the Tether Paper Wallet Generator. It will generate a public key and a private key.
If you can handle little intricacies and technicalities, then this will definitely prove to be the best Tether wallet for you.
However, if you're an absolute beginner, I recommend you not to use paper wallets because you have to be extra cautious while using these types of wallets and if you make a small mistake while sending or receiving crypto, then you can say adios to those crypto funds. But you can also use Ledger or Trezor for a better and easy user experience.
There are many websites and applications that let you create a paper wallet.
Note: Just remember to use a website that lets you create a wallet offline.
#14. Tether Wallet (Official)
Tether USDT also has its own wallet and it is entirely a web-based wallet. It is a primary and one of the easiest ways to convert USDT to fiat currencies like USD, EURO, etc, and USD, EURO into USDT.
Then why is it listed at number 14? Because I don't believe it is as safe as the above-mentioned wallets.
Tether Wallet was hacked in late 2017 and the hacker was successful in stealing about $31 million by using malicious means. After learning about their Treasury Wallet hack Tether officials immediately halted the wallet operations and took it offline.
The wallet was kept offline for almost an entire year before it was restarted with the updated codebase.
This hack and wallet's delayed re-release makes me wonder if it's still vulnerable.
Apart from this, it is a web-based wallet that is available all around the world but it has limited functionalities in the following countries:
Autonomous Republic of Crimea
Cuba
Democratic People's Republic of Korea
Iran
Pakistan
The Syrian Arab Republic
United States
United States Minor Outlying Islands
Despite the above views, it can be the best tether wallet for you if you are considering web-based hot wallets.
#15. Exchange Wallet
These are the most widely used wallets and are also most prone to hacks or thefts.
There is not a single best Tether wallet among all the exchanges.
Exchange wallets are a great option if you are sending or receiving cryptocurrencies frequently but if you don't transact frequently and only need to store your funds somewhere safe, then they are unquestionably the worst option for you.
I have put this exchange wallet option into the best Tether wallet list just to explain why it is the worst choice out there.
Many users who are new to the cryptocurrency field tend to buy and store their cryptocurrencies into their exchange's wallet which I think is quite foolish because your funds are kept in a wallet that is completely controlled and regulated by the exchange. Moreover, they also have constant access to your private keys.
Now let me ask you one thing.
If someone else knows the private keys of your wallet, is that wallet yours then?
NO!
That's precisely why exchange wallets are the worst.
So Which is the Best Tether Wallet?
Anybody can get confused by looking at so many options but if you ask me I will recommend Trezor Model T first and then Ledger Nano X second (Considering that price is not an issue).
Among software wallets, I will recommend Exodus wallet for desktops, Omniwallet, and Eidoo wallet for smartphones and no web wallets.
So which one is the best tether wallet for you? Let me know in the comments below.
OTHER CRYPTOCURRENCY USEFUL TOOLS
Here are some other cryptocurrency useful tools that you may like.
VPN
Why use VPN for cryptocurrency?

For safely using cryptocurrencies, a VPN is well worth the money. It might help you feel safer when it comes to your privacy as a buyer or vendor.

Crypto transactions, as I previously said, are recorded in a public distributed ledger. So there is information accessible on that public ledger that can be used to identify you and if you are identified, then hackers can easily find a way to steal your coins.

Cryptocurrencies are pseudonymous and NOT completely anonymous. That is to say, your transactions are documented under a fictitious name.

Every crypto exchange saves your IP address (anywhere you buy and sell cryptocurrency). Hackers can use this information to determine your identity and then by exploiting flaws in your internet connection, they CAN steal your hard-earned coins.

There are a lot of con artists out there. In fact, crypto exchange frauds netted criminals more than $20 million in the first three months of last year.

We do not, however, advocate that you utilise a free VPN because they are infamously known to sell information. So they might also put you at risk of security breaches, especially if you trade frequently.
Price: Check the current price by clicking below.
Expressvpn is a premium VPN that delivers excellent performance and is undoubtedly the best VPN for cryptocurrency trading.
When it comes to safely trade cryptocurrencies, ExpressVPN comes in as the prime choice.
ExpressVPN accepts a number of different payment options, including Bitcoin. As a result, upgrading to a higher level of anonymity becomes more convenient.
Why Use ExpressVPN?
It contains the most up-to-date security and privacy features to secure your identity (IP address) when conducting any transactions.
It also enables Geo-restricted Altcoins and trading platforms to be accessed in a variety of locations.
It has AES-256bit encryption, which can aid you in your cryptocurrency transactions. It also has perfect forward secrecy, which means the encryption key is changed every time the security is compromised.
It includes an RSA key, AES 256-bit cipher, SHA-512 HMAC authentication, and AES 256-bit cipher.
Because of its TrustedServer Technology, which operates on RAM and wipes your data after each session, you don't have to worry about your data being saved, resulting in way less vulnerable cyber-attacks while trading cryptocurrency.
You won't have to worry about data breaches because it's registered in the British Virgin Islands, and you'll be able to conduct your crypto transactions privately.
This VPN server is the ideal choice for newcomers because of its simple UI and easy-to-navigate servers. Furthermore, it is quite simple to set up its app on both a desktop and a mobile device.
It works with a variety of operating systems, including Windows, macOS, Linux, Android, and iOS, which makes it even better.
It offers a customer service team that is available 24 hours a day, 7 days a week to assist you.
Pros of ExpressVPN:
Split tunneling is supported.
Kill switch for network lock.
Accepts Bitcoin as a form of payment for added anonymity.
Customer service is available 24 hours a day, seven days a week.
Servers that are lightning quick.
The British Virgin Islands are where the company is based.
There are over 3000 servers in over 90 locations.
AES 256-bit encryption technique is unbreakable.
Unrestricted Bandwidth
Excellent security and privacy.
Cons of ExpressVPN:
Limited customizable options.
It also comes with an easy 30-day money-back guarantee, so you don't have to worry if you're unhappy with the service.
Book
As cryptocurrency is tech-savvy, you should acquire some knowledge about it before diving into its pool. The best way to do so is by reading the best selling book written on cryptocurrency.
CRYPTO INVESTING GUIDE-How to Invest in Bitcoin, DeFi, NFTs and More
The Crypto Investing Guide is a must-have reference book for both present and potential crypto investors. The book explains how to navigate the cryptocurrency markets and become fluent in the financial future. The Crypto Investing Guide has 14 informative chapters, including:
Cryptocurrency basics and best practices: Cryptocurrencies are based on blockchain, a novel and intriguing technology. To grasp the technology's economic potential, one must first comprehend how it functions and interacts with older financial systems.
Economic empowerment through crypto investing: Token Metrics' purpose is to provide economic empowerment to everyone on the planet. Cryptocurrencies are a relatively new financial instrument that is accessible to anybody with an internet connection, making them an essential tool in this regard.
Crypto investing strategies : There's a lot of speculation regarding Bitcoin's (BTC), Ethereum's (ETH), and the other 6,000 altcoins' future worth. Understanding where to invest might be difficult, but this book will show you how to analyze investment options for best benefit.
The book is easily available at Amazon and at many other major bookstores across the world.
The topics covered in this book are :
Blockchain and Cryptocurrencies
How to Use and Store Cryptocurrencies
Securing Your Crypto From Hackers
Value Investing
Risk Management
Building a Portfolio
Fundamental Analysis
How to Evaluate Crypto Technology
Token Sales: ICOs, IEOs, and IDOs
Security Tokens
DeFi
Mining and Staking
NFTs
Author Information

Ian Balina is the creator and CEO of Token Metrics, a crypto data analytics platform that teaches investors how to use machine learning to make better investment decisions.

For his work in analytics, cryptocurrency, and business, he has been featured in CNBC, Bloomberg, Wall Street Journal, Forbes, Business Insider, and Entrepreneur Magazine.

Ian has a master's degree in computer engineering and was formerly the IBM Watson North American Analytics Evangelist. Token Metrics is a data-driven Moneyball-style technique to investing in crypto assets that he devised.

Ian turned $20,000 into almost $5 million by investing in cryptocurrencies in 2017 using the Token Metrics analytical platform. He was able to achieve financial independence by openly tracking his investments using a free investment spreadsheet. More than one million investors each month used this spreadsheet, which has now grown into one of the most prominent crypto investment research sites.

Ian is also motivated to give back through his humanitarian activities with Children of Uganda and Black Girls Code, having come from modest beginnings in Kampala, Uganda.
If you have any queries, ask me in the comments below.
If you have any issues/suggestions, send me an email via Contact Form.
Don't Forget to Share!
You May Also Like:
9 Best Alternatives For Coinbase