15 Best Monero Wallets
So we are going to talk about the 15 best wallets for Monero (XMR) and this article contains all the popular and best options to secure your Monero (XMR) coins. It will be helpful for you if it's your first time or you're just looking for a better option.
The list below contains 15 different types of Monero wallets including hardware wallets, desktops wallets, and smartphone wallets.
Monero (XMR), ever since its inception has constantly been among the top 10 cryptocurrencies.
It is privacy-focused and offers the highest degree of anonymity.
If you are already looking for XMR wallets, I would say that you don't need a lecture on Monero and you already recognize its potential. So, let's get started with our list.
Price: $119
Ledger is a leading company in the hardware wallet section and Ledger Nano S is a hardware wallet invented by Ledger. It is a small device used to store the private keys of your cryptocurrencies.
It is connected to a computer or smartphone via a USB cable to send or receive many different cryptocurrencies.
According to Ledger, Ledger Nano S supports 1000+ cryptocurrencies including Monero (XMR).
No other wallets are as secure as hardware wallets. Its security is further enhanced by features like two-factor authentication, PIN code, and a recovery seed phrase.
Pros
Price – It is relatively cheap compared to the features it provides. I mean a small investment in this wallet can keep any amount of your funds safe. It is priced at $60 (approx).
Size and Quality – It is very compact in size and can be carried around like a keychain. It is a lightweight device that has a solid plastic body covered by a twisting metal cover.
Usability – You get detailed instructions on how to set it up once you connect it with a computer. After installation, you can use it to store, send, or receive more than one thousand cryptocurrencies.
Cons
Memory Space – If you are going to set up a lot of different cryptocurrencies in the wallet, you will need to consider the factor of device memory. Luckily, there is also a way around it. You can configure a third-party wallet with your ledger wallet and store its private keys on the ledger wallet.
Price: $119
Ledger Nano X is the big brother of Nano S with the following extra features:
Display – It has a bigger and better screen which in turn lets you see more information. For example, on Nano S, you had to scroll forward to see the complete transaction address but the complete address is visible on the Nano X screen.
Wireless – Nano X also supports Bluetooth connectivity which simply lets you connect your wallet to any Bluetooth supported device and use it on-the-go.
Battery – It also has an in-built battery of 100 mAh.
Storage – Nano X also has more than 10X memory space than Nano S.
With so many extra features, Nano X also comes with a boost in price. It is currently priced at $119.
Price: $159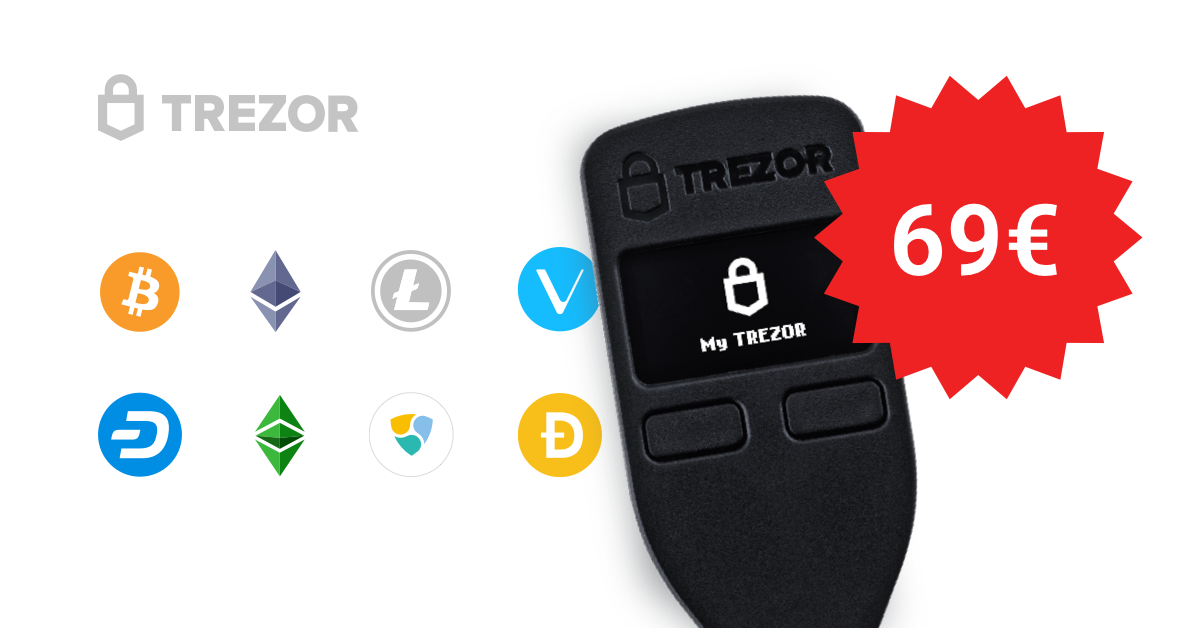 Trezor Model T is a feature-packed latest hardware wallet developed by Czech company SatoshiLabs. It is a touchscreen-based wallet that lets you store your cryptocurrencies offline. It has no physical buttons and is completely operated by the touchscreen.
Trezor Model T supports Monero (XMR) and 1000+ other cryptocurrencies including BTC, ETH, XRP, etc.
The main concept behind its touch-based operating system is to seclude the private keys from any external environment to protect them from any kind of external data breach. This feature just takes the security of hardware wallets a step further.
To be honest, I think the touchscreen is a great feature but I'm not sure if it's worth the price hike.
If you are not price-sensitive, then Trezor Model T is the best option for you in terms of hardware wallets.
The only reason it is #3 in the best monero wallet list is its huge price otherwise it is the best choice.
Note: The above mentioned wallets will always be more secure than the ones mentioned below.
Best Free Monero Wallets
#4. Monero GUI Wallet (Desktop Wallet)
GUI stands for Graphical User Interface and it is developed by the team that was behind the Monero blockchain.
The GUI wallet has a nice, intuitive user interface and is most suitable for users who don't prefer many technicalities.
It has two modes of operation: simple mode and advanced mode. Simple mode is best for users who quickly need to complete transactions and advanced mode is best suited for users who like to have full operational control over their wallet and node.
Why is this wallet on the best Monero wallet list? Because it is not just a good wallet for desktops but it can also be integrated into live operating systems like TAILS, Virtual Box, etc.
Seasoned Monero users prefer to use a GUI wallet over any other Monero desktop wallet.
This Monero GUI wallet is unregulated and is highly criticized for being so. But since it's developed by Monero developers, I believe it is only as unsafe as any other top-notch desktop wallet.
It is currently available in Windows, macOS, and Linux.
Note: It is flagged as malware by some antiviruses and firewalls.
#5. MyMonero
MyMonero is a lightweight alternative to Monero GUI. With MyMonero, you can easily send and receive Monero coins anonymously.
It runs on a light node and does not require downloading the entire blockchain which makes its usage easy and efficient.
It is just super easy to download, install, and use the wallet. It even consumes minimum battery, bandwidth, and storage.
It has one more great feature. If for any reason, you are unable to use your software wallet, you can also use the MyMonero web wallet to quickly access your funds in real-time.
Moreover, MyMonero does not store any sort of transaction history but you can download your entire history by putting in your recovery seed phrase.
The only thing that is missing is the multi-signature feature.
#6. Coinomi
Coinomi is a popular multi-currency software wallet and it has been around in the cryptocurrency sector since 2014. I have personally used it for quite some time.
Nowadays there are a lot of wallets to choose from but back then, it was the only choice for many crypto enthusiasts.
Today, the Coinomi application is available across iOS, Android, and all major desktop platforms like Windows, macOS, and Linux.
Coinomi is an ideal choice due to the following reasons:
Security – Coinomi stores the private keys of your wallet in your wallet. It makes sure that the funds remain safe and under your control all the time.
Privacy/anonymity – It is very privacy-centric and takes measures like No KYC requirement, No identity linking, No IP association, and no tacking of any transaction whatsoever. They even go a step further by anonymizing your IP address on their servers.
SegWit – It even supports SegWit which lets you use bitcoin, litecoin, and several other cryptocurrencies with faster confirmations and lower transaction fees.
Built-in Exchange – Well, you don't need to go to any cryptocurrency exchange to buy any coins, you can buy them directly from your Coinomi wallet.
Coinomi supports many cryptocurrencies based on 125 different blockchains. The most popular coins among them are:
MONERO (XMR)
Bitcoin (BTC)
Ethereum (ETH)
Ripple (XRP)
Litecoin (LTC)
Tether (USDT)
and many more.
Coinomi is among one of the best monero wallets for desktops out there.
#7. Exodus Wallet
Exodus is a multi-currency wallet usually recommended for beginners. You can securely manage and exchange your cryptocurrencies from inside your wallet.
It was developed in 2015 by Exodus Movement inc. and was originally a desktop software wallet that further expanded its operations to mobile operating systems as well.
Now it is available completely free across macOS, Windows, Linux, iOS, and Android.
Exodus wallet is also compatible with Trezor wallets which allows you to use exodus UI with the security of a cold storage wallet.
One more thing, they offer exceptionally good customer support for free software.
It currently supports 115 cryptocurrency assets including Monero (XMR).
To be honest, if you are just starting to use BTC, XMR, or other cryptocurrencies, you will be able to use this wallet quite easily and effortlessly.
#8. Atomic Wallet
The atomic wallet is another multi-currency wallet used to store and manage Bitcoin, Monero, and over 300+ other cryptocurrencies and tokens.
It is sort of like a cold storage wallet because it keeps all your sensitive information offline and inside your device.
It has another great feature called Atomic Swap in which you can swap any cryptocurrency for another.
Suppose you want to buy XMR, with the atomic swap you can easily do so by swapping any other cryptocurrency for XMR and if don't you want to swap your XMR coins for others, you can easily buy them from the in-built exchange platforms with your desired method.
It even maintains the highest level of encryption and also offers to stake in many Proof-of-Stake coins.
Atomic wallet is not only the best Monero wallet but it also currently supports more than 300+ crypto assets which in turn supports more than 1000+ different tradable crypto tokens.
Some major supported cryptocurrencies are:
Bitcoin (BTC)
Monero (XMR)
Ethereum (ETH)
Ripple (XRP)
Litecoin (LTC)
300+ ERC20 Tokens
This wallet is available across the following platforms:
Windows
macOS
Ubuntu
Debian
Fedora
Android
iOS
This is the best Monero web wallet and if you need a web wallet, go check this out.
#9. Guarda Wallet
Guarda wallet founded in 2017, is another multi-currency open-source wallet.
It is completely non-custodial which means it gives its users full control over their funds and ultimately, full responsibility for their security.
Guarda developing company even claims to store zero personal or any sort of cryptographic information of its users.
Another great feature is that you can easily import all your existing wallets into the Guarda wallet. It also shows you the recommended fee for every transaction or you can choose any fee according to your liking.
It is available as a web wallet, a desktop wallet, a mobile wallet, and even as a Google Chrome extension and all these wallets can be used to access an in-built exchange platform and buy any cryptocurrency of your choice.
Its web wallet can be accessed any time from any browser on any platform, desktop wallets software is available for Windows, macOS, and Ubuntu. The mobile application is available for both Android and iOS and of course, all the applications are free.
You can also interact with DAPPs (Decentralized Applications) using its chrome extension.
It supports 40+ cryptocurrencies and more than 10,000+ token assets from BEP-2, ERC20, and ERC721.
Since it is a non-custodial wallet, it should be among the best Monero wallets.
#10. Cryptonator
Cryptonator is a multi-currency digital asset hot wallet developed by Andy and Brian Chan. It has around a 1 million active user base.
It is not an ideal choice among the best Monero wallets but it can be considered so for the following reasons:
Multi-Currency – Apart from the 10+ cryptocurrencies, it also supports a few fiat currencies including United States Dollar (USD), Euro (EUR), Russian Ruble (RUB), and Ukrainian Hryvnia (UAH).
Security – It has an encrypted SSL connection over HTTPS and uses only trusted IPs to enhance its web wallet security. It also supports OTP using 2-FA for all its transactions.
Multi-Language – It also offers support in different languages which include English, Russian, French, Spanish, and German.
It is available as a web wallet for all platforms and as an application for Android and iOS users.
It supports the following cryptocurrencies:
Bitcoin (BTC)
Monero (XMR)
Litecoin (LTC)
Bitcoin Cash (BCH)
Dogecoin (DOGE)
Ethereum (ETH)
Ethereum Classic (ETC)
DASH (DASH)
Ripple (XRP)
Zcash (ZEC)
Cryptonator Monero (XMR) fee is 0.00100000 XMR for a single transaction which is quite high if you ask me.
#11. Cake Wallet
Cake wallet was the first open-source iOS wallet for Monero and is still the best Monero wallet for all the iOS users out there.
It gives you full ownership and control over your funds.
It was also the first wallet that supported biometric authentication. It means that you can also implement security measures on your wallet like setting up a fingerprint lock or Face ID lock.
Unlike desktop wallets like Monero GUI or MyMonero, the Cake wallet restricts root-level access which I think makes it even more secure than these desktop wallets.
According to their official website, cake wallet offers the following major features:
Only you keep your keys and seed phrase
Cake wallet is open-source
Supports Monero's unique sub-address
Set your own transaction fees and speed
Connect to the node of your choice
Fingerprint lock or Face ID
Buy Monero and other cryptocurrencies from inside the wallet
Supports multiple languages
Cake wallet supports the following cryptocurrencies:
Monero (XMR)
Bitcoin (BTC)
Bitcoin Cash (BCH)
Litecoin (LTC)
Ethereum (ETH)
DASH (DASH)
Tether (USDT)
Binance Coin (BNB)
EOS (EOS)
Ripple (XRP)
Cardano (ADA)
Stellar (XLM)
TRON (TRX)
NANO (NANO)
and many more are on the way.
Note: Cake wallet is the Best Monero Wallet for all iOS users.
#12. Monerujo (Monero Android Wallet)
If you're looking for best monero wallet for your Android device, Monerujo is the answer for you.
Let me make some points and arguments which explain why I think Monerujo is the best Monero wallet for android users:
Source Code – Monerujo is completely open-source which means that anyone can look into their code and understand its functionality.
Pay Direct – I want to mention one amazing thing about this wallet. You can pay to any BTC address directly from your Monero funds. This means that you do not need to convert your XMR coins to BTC, you can simply scan or copy and paste and Bitcoin address into your Monerujo wallet and it will automatically convert and transfer your XMR coins to any BTC address. That is cool, man!
Multi-account – It is a multi-account crypto wallet which implies that you can create an infinite amount of accounts and wallet addresses.
Hardware Integration – Monerujo stores only Monero coins but you can also integrate your Ledger wallet into it which in turn supports 1000+ cryptocurrencies and token assets.
One more thing, there is no limit to the amount of XMR coins that you can store in the wallet.
However, I also think that it has it following two flaws:
It is available on just Android
It supports only Monero
It is also unregulated which in my eyes, is not a flaw.
So let me say it again, Monerujo is the Best Monero Wallet for all Android users.
#13. Edge
Edge is another multi-currency wallet available for both iOS and Android users with some really advanced security features.
It was founded in 2014 under the name 'AirBitz' and was later renamed 'Edge'.
It was initially just a bitcoin wallet but was later redesigned to store and trade many more cryptocurrencies.
Edge Wallet Features:
User Interface – It has a pleasant and simple user interface with only four major options: Wallets, Scan, Request, and Exchange. This makes the user's experience intuitively easy.
In-built Exchange – You can also use their in-built exchange platforms like Shapeshift, Changelly, and ChangeNow to buy your desired cryptocurrency quite easily. Also, note that fees will be higher than usual.
Security – Edge has implemented a lot of security measures which include: 2-Factor authentication, client-side encryption, auto Logout, spending limits, etc. which makes it more secure than normal mobile wallets.
Edge wallet currently supports the following digital assets:
Monero (XMR)
Bitcoin (BTC)
Ethereum (ETH)
Litecoin (LTC)
Ripple (XRP)
Bitcoin Cash (BCH)
DASH (DASH)
and 30+ other cryptocurrencies.
You can also submit your request to add a particular cryptocurrency to the list.
I don't think Edge is the best Monero wallet but it is certainly a worthy contender.
#14. Paper Wallet
Paper Wallet is undeniably the Best Monero Wallet to store your XMR coins safely.
You can create your own Monero paper wallet through this Monero Wallet Generator. It will generate a private key, a mnemonic seed phrase, and a public address.
If you can handle little intricacies and technicalities, then this can be the best Monero wallet for you.
However, if you are an absolute beginner, I recommend you to not use paper wallets.
Also, note that you will need to be extra cautious while using these types of wallets and if can afford to use a hardware wallet like Ledger or Trezor, then you don't need to consider this option.
#15. Exchange Wallet (Hot Wallet)
These are the most widely used wallets and are also most prone to hacks or thefts.
There is not a single best Monero wallet among all the exchanges.
Exchange wallets are a great option if you are sending or receiving cryptocurrencies frequently but if you don't transact frequently and only need to store your funds somewhere safe, then they are the worst option for you.
I have put this exchange wallet option into the best Monero wallet list solely to explain why it is the worst type of wallet.
Many users who are new to the cryptocurrency field tend to buy and store their cryptocurrencies into their exchange's wallet which if you ask me is quite foolish because your funds are kept in a wallet that is completely controlled and regulated by the exchange. Moreover, they also have access to your private keys
Now let me ask you one thing.
If someone else has access to the private keys of your wallet, are those funds yours then?
No man! They are not yours.
That is precisely why they are the worst option.
Conclusion
So have you decided which is the best monero wallet for you?
Well, if the price is not an issue, choose between Ledger or Trezor and if it is an issue, then you still have more than 10 options to choose from.
This concludes our article for Best Monero Wallets. I really hope this article was helpful.
Support us by sharing!
FAQs
What is the best monero wallet?
If price is not an issue then Trezor Model T or Ledger Nano X is the best but you can also use:
Monero GUI/CUI wallet, MyMonero (for desktop)
Cake Wallet (Best for iOS)
Monerujo (Best for Android)
You can also check our complete list of all the monero wallets.
Is There a Monero Wallet Like Electrum?
Monero and Bitcoin are completely at the opposite ends of the spectrum. So, there is no monero wallet like electrum but you can check our list of 15 best Monero wallets and decide which one is best for your needs.
Which is the Best Monero Wallet for TAILS?
TAILS is a live OS used to browse the internet with anonymity. If you're thinking of using monero with TAILS, you should consider setting up a GUI wallet first (Comment to get a guide) and if you are unable to run it then you can also opt for the CLI wallet. But remember one thing, Monero CLI wallet will only run on TAILS with the Torsocks command.
Note: Never use a dark web wallet!
What happens to the worth of your crypto coins in a hardware wallet since it's offline?
It does not matter which coin you keep in your hardware wallet. If the price of the coin increases, then its price increases everywhere it is stored, and if its price decreases, then its price also decreases everywhere.
Which countries can use atomic wallet?
Atomic wallet is available for every country across the world.
YOU MAY ALSO LIKE: